Japan's first hybrid cargo ship carrying lithium-ion batteries was unveiled on 4th., March in Tokyo by NS union intra – navigation company, a subsidiary of Nippon steel group. It can travel up to six hours with batteries alone.
Publicly disclosed is the "Utashima" (499-ton class), a 76.19-meter long and 12.00-meter wide cargo ship completed on February 27, which will be used to transport steel from Nippon steel. The ship has 2,828 battery packs , each is made up of 24 Toshiba lithium-ion batteries, equivalent to about 2,700 conventional hybrid car (HV) batteries.
Batteries will be recharged during navigation with diesel engines, and fast-charging devices will be improved during berthing. If batteries were used to power electric motors and power propellers, emissions of carbon dioxide (CO2) would be close to zero.
Although shipbuilding costs have nearly doubled, fuel consumption is expected to be reduced by 2-3 percent. By reducing the operation of the diesel engine, it can increase the quiet time inside the ship and facilitate the rest of the crew." It will push for a change in the way we work," said Yasutaro Hada, managing director of NS inshore Marine.
Utashima is owned by the island Dock co., LTD. (onomichi, Hiroshima prefecture), manufactured by the koike shipbuilding and shipping co., LTD.
In China, electrification of ships is also starting to take off.
At the end of January, "Dolphin", a 2000-ton new energy pure electric bulk carrier invested and built by Guangzhou Development Group CO., LTD, was put into use. The ship has an ultra-capacitor + very large power rechargeable lithium battery dual management system, which will be mainly used to transport coal.
The "Dolphin" is 70.5 meters long, 13.9 meters wide and 4.5 meters deep, with a designed draft of 3.4 meters and a designed cargo capacity of 2,000 tons. With the automatic design, four people can complete the driving control, charge for 2.5 hours, and can run about 80 kilometers.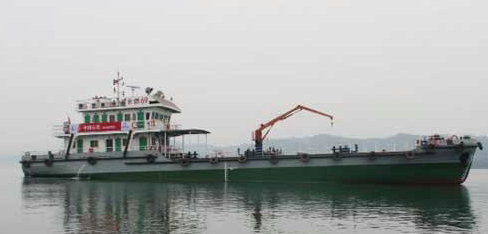 In terms of technology, the ship has achieved technological innovation in three areas.
First, it has broken through the ship type design and layout pattern of traditional transport ships, making ships more energy efficient and ensuring the safety of ships when large-scale lithium battery power system is adopted.
Second, high performance lithium battery and super capacitor system are used as the only power source.
Third, it breaks through the traditional propeller propulsion mode of large inland transport ships and adopts the straight-wing rudder propulsion system with better comprehensive performance and more energy saving and environmental protection.
"Dolphin" is the world's first 1000-ton pure battery driven load ship.
It is foreseeable that the electrification of ships is opening up new application space for lithium battery pack applications.